Traditional Metal Braces
Our traditional metal braces at Six Points Orthodontics and Mississauga Orthodontics are different to the braces worn 10 years ago. The technology we use allows us to offer smaller and lower profile brackets that are more comfortable and easier to clean. Reduced friction enables faster tooth movement. Whether you need a pop of colour for a special occasion, or are looking for understated chic for a big upcoming meeting, we offer over 20 colour options to choose from!
Clear (Ceramic) Braces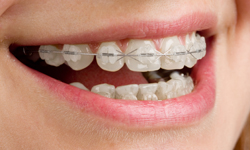 Clear braces are made of a ceramic material and are therefore much less visible on your teeth than metal braces. They serve the same purpose as metal braces and work the same way: they are glued to the teeth and hold the wire in place, in order to gently move your teeth. The clear braces we use at our office are the most aesthetic clear brackets on the market - they are cut from a single crystal of pure sapphire. Once the cutting is complete, the brackets are heat polished to make them smooth and prevent any staining. In fact, clear braces will not be noticeable at all in photos, so if you are in a wedding, attending a big event, or taking family photos, rest assured that the photos of you smiling with braces will look great. Nowadays, clear braces are an increasingly popular option for both adults and teens.
Clear Aligners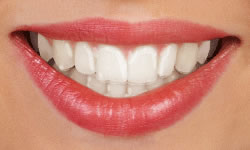 One of the most common reasons why people don't want to straighten their teeth is because they do not want to wear braces and wires. The great news is that, because of clear aligners, you no longer have to! Clear aligners, or Invisalign, consist of a series of custom-made, clear, removable aligners. These virtually invisible laigners graudally straighten your teeth over time. There are no metal components or wires. Even without masks on, people will not be able to tell you are weaing them at all!
Lingual Braces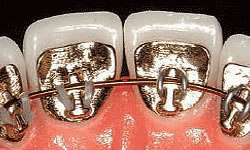 Lingual braces are hidden behind the teeth and are therefore "invisible" when you smile. Lingual braces are 100% customized to match the shape of your teeth; the brackets are created uniquely for you. Lingual braces are a very reasonable option for athletes, models, actors/actresses, musicians who play wind instruments, and adult professionals.